The OSCE Project Co-ordinator in Ukraine is implementing the project "Improving the National System of Regulation in the sphere of Chemical Safety and Security" in order to improve Ukrainian legislation to reduce the risk of potential damage which may be made by hazardous chemicals to workers, consumers and the environment, and also unauthorized access to toxic substances, especially of dual use.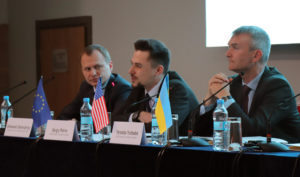 The project was developed by the OSCE Center for Conflict Prevention in cooperation with the OSCE Project Co-ordinator in Ukraine, in close cooperation with the Ukrainian authorities on the basis of the 2015 Comprehensive Review of Chemical Safety in Ukraine, in accordance with UN Security Council Resolution 1540 (2004). The project is co-financed by the European Union and the US government.
One of the goals of the project was to develop national regulations of Ukraine to effectively improve the state regulation of chemical products and ensure its safe use or use with minimal risks to human health and the environment.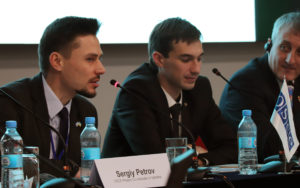 The Ministry of Economic Development and Trade of Ukraine acted as a partner in the development of the Technical regulation on safety of chemical products and the Technical regulation on hazard classification, precautionary labeling and packaging of chemical products, harmonized with EU REACH and CLP Regulations.
The first drafts of technical regulations were developed by a team of selected national experts in 2018, but the current legislative framework (Law of Ukraine "On Technical Regulations and Conformity Assessment" and Law of Ukraine "On General Safety of Non-Food Products") appeared not to be enough to implement technical regulations of such complexity, taking into account the long overdue for need to develop and adopt the framework Law of Ukraine in the sphere of chemical safety and security. the need to develop and adopt a framework law of Ukraine in the field of chemical safety.
The Ministry of Environmental Protection and Natural Resources of Ukraine is a project partner in the development of the draft Law of Ukraine "On Chemical Safety and Management of Chemical Products" as a framework legislation in the sphere.
As a result of the development of draft law the drafts of technical regulations have undergone some technical changes to meet the specific requirements of Ukrainian legislation concerning regulation of certain legal relations at the appropriate legislative level. As a result, some provisions of the original REACH and CLP are defined in the draft law, and some in the draft technical regulations (CMU Resolutions).
The draft Law of Ukraine "On Chemical Safety and Management of Chemical Products" goes beyond REACH and CLP only, as it is the basis for existing and future regulation in all sectors of the economy where chemicals are used, and also contains provisions on chemical security developed on the basis of US CFATS legislation.
Майбутній Закон України «Про хімічну безпеку та управління хімічною продукцією» та підзаконні технічні регламенти стануть основою регулювання обігу хімічної продукції, вплинуть на правозастосування дотичних сфер, таких як управління відходами або ідентифікація об'єктів підвищеної небезпеки та стануть ключовими у хімічній реформі України у цілях євроінтеграції.
Head of the REACH Sector of SE "Cherkasy NDITEKHIM"
Антон Мукомела