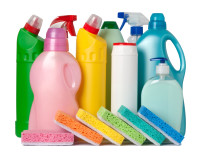 The purpose of adopting Regulation (EC) №648/2004 on detergents is to consolidate all previous directives and regulations on detergents into a single document. The regulation also introduces stricter requirements for testing for rapid biodegradation of surfactants in detergents, as well as expands the requirements for labeling detergents. The overall goal is to ensure a high level of protection for the environment and human health.
In order to obtain a permit to place a detergent on the EU market, it must be tested as specified in the Regulation. Tests for the rate of biodegradation of surfactants should be performed in laboratories accredited in accordance with internationally recognized standards, namely EN/ ISO/ IEC/17025 or in accordance with the principles of good laboratory practice GLP. Manufacturers are responsible for compliance with the Detergents Regulation.
Regulation №648/2004 entered into force on 8 October 2005 and repealed previous legislation (Directive 73/404/EEC, Directive 73/405/EEC, Directive 82/242/EEC, Directive 82/243/EEC, Directive 86 / 94 / EEC and EU Commission Recommendation 89/542/EEC).
Consolidated English version of Regulation (EC) 648/2004